Help & FAQs
Top Questions
Do you offer a fitting and measuring service?
We offer a free, no obligation home consultation service. You can book an appointment with our sales experts for a time and day that is most convenient for you on 01303 253399 (option 2).
Please note
, we only offer this service around
South East Kent
. If this is not local to you, you can find a professional fitter on
www.nicfltd.org.uk
.
Is there a showroom where I can view your flooring?
Yes, come and visit our showroom at Units 1-3, Kingsmead, Park Farm, Folkestone, Kent, CT19 5EU.
Do you deliver on weekends?
Unfortunately we cannot deliver on weekends.
Do you offer Click & Collect?
Yes, please select the 'Click & Collect' option at the checkout.
Not all of our products are available for Click & Collect, however if you email
help@remlandcarpets.co.uk
we can help with your order. Collection is from our warehouse in Folkestone, Kent - CT19 4FJ.
How do I measure my room?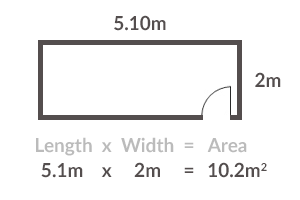 Here is an example if your room is a rectangle. It's as simple as measuring the length and width of your room - the width here would be 2m and the length would be 5.1m.
Unless otherwise stated, we recommend that you add 10-20cm extra for cut lengths and 10% for boxed products (such as tiles) to allow for wastage and cuts. In our example this would mean ordering 5.3m x 2m = 10.6m
2
.
If you require any further help regarding measuring your room or how much flooring you need to order please drop us an email and we will be happy to help.
Which way does the pattern run on flooring?
Unless stated in the description, the pattern typically runs up the length of each roll - not the width. Our image always represents the design of the flooring running up the length.
Which flooring can be used with underfloor heating?
Keep an eye out for this logo on our product pages which shows if the flooring is suitable. If the logo is not shown, the flooring is not suitable.
Do your prices include VAT?
Yes, all our prices include VAT.
How can I get some FREE samples?
Samples of many of our product ranges are available to order through our website - look for the green 'Free Sample' button on the product page. If there is not a sample button, unfortunately we're unable to provide a sample of that particular flooring.

We can send a maximum of 5 samples per customer. These are normally small cuttings from our own stock to give you a feel for colour, quality and thickness. If we can't provide the sample ourselves we may arrange to have it sent to you directly from the manufacturer.

We always recommend you order a sample before purchasing any item. This is because your screen may not show an accurate representation of the colour or design. The sample should give you a true idea of the colour, style and quality of the product.

Please note, samples may sometimes vary slightly from purchased items because of the way flooring is manufactured in different batches.
When should I book a fitter?
When booking your fitter, it is very important you allow enough time for any unexpected delivery delays or damages that may have to be resolved.

We use third party couriers and they are usually very reliable, but mix-ups and delays do occasionally happen and the order may not arrive on the day originally specified. We would recommend that you book a fitter at least 8 days after your expected delivery date.
Payment
What payment methods do you accept?
Visa, Mastercard, American Express and PayPal.
Do you have any promo codes?
Can I use more than one promo code with my order?
No, only one promo code can be used per order. Check the individual promotion terms and conditions for more details.
Delivery
How will I know my goods have been dispatched?
Upon dispatch you will receive an email from us. It will include an estimated delivery date as well as a method of tracking the progress of your delivery.
How long does delivery take?
See below for the estimated delivery times for UK mainland. This is subject to stock availability, please contact us for more details -
help@remlandcarpets.co.uk
.
Some items are also available for Express Dispatch, meaning we can get them sent out the same day if you order before 12 noon. Brands covered by this (either fully or partially) are shown below with our express dispatch icon - please check individual product pages to see if specific products are included.
Brand
Estimated delivery (working days)
Allura
5-10 days
Alternative Flooring
7-10 days
-
Altro
2-4 days
-
Balterio
3-7 days
Burmatex
2-5 days
CFS Flooring
2-5 days
-
Coral
5-10 days
Crown Floors
7-10 days
-
Eternal
7-10 days
F Ball & Co
3-5 days
Flotex
5-10 days
Furlong Flooring
3-7 days
Heckmondwike
2-5 days
Interface
3-7 days
iSense
10-14 days
-
J2 Flooring
2-5 days
-
JHS
2-5 days
Lano
7-10 days
Leoline
3-7 days
Lifestyle Floors
3-7 days
Luvanto
2-5 days
Marmoleum
5-10 days
Novilon
3-7 days
-
Oryzon Grass
3-7 days
-
Polyflor
3-7 days
Rawson
2-5 days
-
Remland Carpets
3-7 days
Rewmar
3-5 days
Rhinofloor
3-7 days
Sarlon
7-10 days
-
SmartStrand
7-10 days
-
Sphera
7-10 days
-
Surestep
7-10 days
-
Tarkett
3-7 days
Tessera
5-10 days
Woodpecker
2-5 days
-
What are your delivery fees?
Our delivery fees are based on the physical size of the items being ordered. This is calculated using the
shortest
edge (width or length) of the shipment. Standard delivery charges are:
£14.95Up to 1.3m
£22.951.4m to 2.9m
£29.953.0m to 4.0m
£49.954.1m or more
Additionally, the following areas will incur a delivery surcharge:
£12.50Isle of Wight
£15.00Orkney, Shetland, Hebrides, Isle of Mann, Isle of Arran, Isle of Bute
£20.00Isles of Scilly
Can I have a different delivery address to my billing address?
Yes - when making your purchase online you can enter both a billing address and a shipping address.
Can you deliver overseas?
Yes we can, please email us -
help@remlandcarpets.co.uk
- with all the details of what you would like and where you would like the goods delivered to. We will then get a quote from our international couriers and get back to you as soon as possible.
What should I do if my order has not been delivered yet?
Please refer to your dispatch email which will state an estimated date. If the goods have not arrived within that time frame, please send us an email to
help@remlandcarpets.co.uk
with your order number and we will be more than happy to help you.
Can I specify a delivery date?
As long as the delivery is in the time frame we advise for the item we can take a recommended delivery date and do everything we can to get it to you for then. We cannot always guarantee the delivery will arrive on that day due to us using a third party courier.
Returns & Refunds
What is your returns policy?
If you wish to cancel your order before it has been cut into or dispatched please email
help@remlandcarpets.co.uk
stating your order number and which item/s you are cancelling.
If you are ordering a carpet, vinyl, flotex, entrance matting or any other flooring cut from a roll, these items are classed as a bespoke order and are cut to your specific size. If the goods have already been cut we may still be able to cancel the dispatch of your goods. However, you will incur a restocking fee to cover the costs associated with a bespoke order. This restocking fee will be at least 25% of the purchase price of the goods.
If you decide to return your goods to us this will need to be done at your own cost, unless it is a manufacturer fault or damaged. If you would like us to arrange the return for you we can obtain a quote from our couriers, this will be subject to your approval. Please note returns are more expensive than the original delivery cost.
If an item is faulty we will ask for a few pictures to be emailed to identify the problem. Faulty goods will be collected free of charge and replacement items sent. However, if you have fitted or used your items in any way, or been in possession of them for more than 28 days, we unfortunately cannot consider or accept any returns.
Have you received my returned item?
Once the item has been returned, we will contact you to let you know how we are processing your refund.
How long does refunds take to be processed?
We will refund you via the original payment method within 3-7 working days. The refundable amount is subject to conditions stated above.