Balta Carpets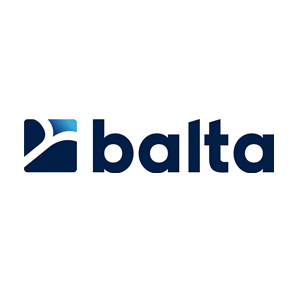 Satino floor coverings are ideal for every living space which seeks to be cosy and comfortable. Whether for a bedroom, living room or dining room, Satino imparts warmth, tranquillity, beauty and softness to your floor. The colours too highlight these advantages. The choice includes timeless, modern beiges, warm red tones, contemporary pastel colours, fresh green, different shades of grey and much more. A broad selection for even more luxury and comfort.
Eternity - Softness to last - Take a moment and imagine the delicate, light touch of blossoming flowers in the spring. ITC carpets presents an ode to nature with ETERNITY. This luxuriously soft carpet range is crafted from 100% Imprel® Finesse SD fibre and guarantees long-lasting quality due to its stain and sunlight resistance.
Searching for the perfect carpet?
Tell us your requirements and we'll send you a selection we think you'll love. They're all in stock and come with free delivery!
Contact Us
Balta Carpets
Trusting a well-known brand is wise. That's why we stock this range. But what exactly do you get from the Balta products?
Exceptional to look at
Aesthetics is everything, right? You want your carpet to leave people in awe. With simply one correct element you can transform your entire room. If that element is a Balta carpet, you're doing it right:
Balta picks hues that will complement your décor. The classic colours such as London Clay and Colonian Copper easily match with most furniture, curtains and finishes.
The thick piles will have your carpet present as thick and luxurious as it feels. Try out the Satin Soft comfort carpets for the ultimate in comfort.
The range's items are designed to complement each other too. Add dimension and character to a room by matching a Taupe Ribbon design with a Gull Grey backdrop.
Balta products give you all the elements you need to create beauty in indoor spaces.
Other benefits
But what about the long term effects?
Easy To Maintain
Balta's next focus is on giving you practical solutions. These stunning carpets come with easy maintenance features resulting in two benefits:
You'll spend less time and money on maintenance
Your carpets will last longer and stay in pristine condition the whole time
How does a carpet help you get this right?
Balta carpets have many features you probably thought isn't possible with carpets:
The carpets are durable thanks to the yarn design. A two-ply yarn is more resilient than others.
Ever heard of bleach cleanable fibres? That's what you get with Balta. Now your stains can disappear instead of spending money on replacing the carpet.
Fibres are designed to clean easy. Balta advises the following:

Vacuum twice a week. This also helps fibres recover from pressure placed on them.
Professional cleaning is only needed once in two years.
Blot stains instead of rubbing them. Treat them as soon as possible for the best results.
Now you have a practical and a beautiful flooring solution. And it will fit your budget.
Affordable To Own
It already seems too good to be true, right? What about getting quality and beauty at an affordable price? That's what you get at Remland.
Because we source direct from manufacturers, our prices stay low.
The Balta ranges meet the many requirements of the modern home owner—or office manager—has. Which feature are you most impressed with? Now place your order to get the best prices and make a Balta carpet your own. Which one did you pick?