Tarkett Vinyl Flooring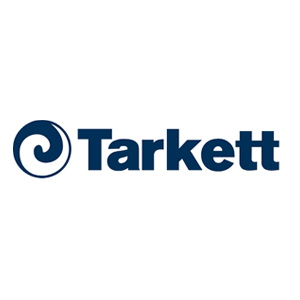 Tarkett flooring is a worldwide brand that combines convenience with contemporary design in their extensive range of vinyl flooring. In fact, they have so many designs and colours available that your biggest challenge may be choosing which Tarkett vinyl fibrefloor to go for!

Their extensive range of choices include top quality vinyl sheet flooring at exceptional prices and quality, as many of Tarkett's floor tiles are available under clearance prices that help you save even more!
Free delivery on orders over £250! *
Why choose Tarkett?
Vinyl flooring is no longer a thing of the past, and Tarkett appreciates that both style and comfort are important to homeowners. Most manufacturers will sacrifice one for the other or fail at trying come somewhere between, but this doesn't always need to be the case.

Tarkett's vinyl flooring is hardwearing and easy to maintain, but it also comes in a ton of modern colours and designs to suit the aesthetics of any home in the UK.

These beautiful designs and styles will suit your decor and your budget, so order your Tarkett vinyl online and you can take advantage of our fast, free delivery.
Tarkett's Ranges
Tarkett vinyl offers a collection of ranges that define the mood of the available styles and colours. Most of the styles listed below include more than a dozen colours and patterns for each, giving you a wide selection of choices:
About Tarkett
Tarkett flooring is a leader in environmentally responsible manufacturing and has been pursuing the development of sustainable products for decades. Their 'Balanced Choice' initiative promotes affordability and performance in a customized package that branch beyond what the typical selections.

A key element of their business practices focuses on sustainability, which points to the quality of their products as well as the quality of their seller-to-buyer relationships.

Tarkett vinyl flooring uses renewable materials where applicable, and they consistently monitor resources in an effort to minimize consumption. Recycled products are used from the beginning of manufacturing through the end.

They boast the largest recycling plant in the industry, and have carried the standard for renewable flooring practices for almost a decade. This is measured against the conservation of chemicals used to clean the floors and its effect on air quality.

The objective is to provide safe, sustainable flooring that meets the everyday needs of consumers in all walks of life.

Supreme Protection
Supreme Protection is Tarkett's patented surface treatment for vinyl floors. It protects against daily wear by adding improved stain resistance, lessening the impact of spills and making maintenance much less of an ordeal. Supreme protection not only helps to keep floors beautiful, it also reduces noice because it increases the floors' thickness. This means your floors will stay looking polished and pristine for much longer.
Ordering
Remland Carpets offers free delivery on qualifying orders of Tarkett flooring. This includes Tarkett lino clearance items, so you can get the most durable and aesthetically pleasing vinyl flooring without the high costs found at other retailers.

Browse our range and find out more about the individual styles on offer, including price per square meter, the most recent product reviews from real customers, product details, and how to order free samples.

We also provide accessories that may be needed for installation, such as double-sided tape, door bars, and adhesives - helping you to get the job done, from the conception of your idea through to completion!