Retailers find value in recycling carpet waste
9 June 2015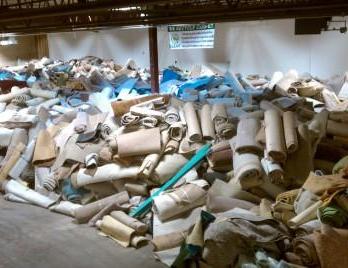 Carpet Recycling UK highlighted the economic and environmental value to retailers of recycling their uplifted carpets and installation off-cuts at the 2015 Buying Groups' National Flooring Show, last week.
Baling uplifted carpets reduces the costs of logistics associated with sending these bulky materials for recycling and saves money on landfilling them. Recycling off-cuts, which have higher potential value, works out at less than half the cost of landfill. CRUK member Kenburn was also present to give hands-on baler advice to retailers.
"Installation off-cuts can be converted into other textile-based products like carpet underlay, particularly if they are wool-based. Wool is a good fibre for use in felt carpet underlays, thanks to its resilience and insulation properties," explained Laurance Bird, Director of the industry-backed association for recycling and reusing waste carpet.
Around 400,000 tonnes of carpet waste arises each year in the UK, of which 113,000 tonnes were reused, recycled or recovered for energy in 2014; representing a landfill diversion rate of 28%. CRUK's target is 60% diversion from landfill by 2020.
Visit us at www.remlandcarpets.co.uk | 01303 253399
More news from Remland Carpets