Sarlon Frequency
30% OFF - New from Forbo Sarlon Frequency range features a unique linear pattern made up of dots and dashes. This vibrant range combines acoustic comfort with excellent quality. The eye catching pattern is colour coordinated with various other ranges from our Sarlon acoustic vinyl collection to create beautiful floor combinations. Forbo Sarlon Frequency is 2.60mm thick with an impressive 0.70mm wear layer and is super hard wearing, it offers an impact sound reduction of 15dB and has an R9 slip resistance rating. This 2m wide vinyl is easy to maintain and keep clean and has a PUR surface coating which makes it suitable for both domestic and demanding commercial locations - "A funky looking vinyl, great colours at a great price". - Minimum order is 3m x 2m (6m2).
SPECIAL OFFER - Save a massive £10.00m2 - Was £32.99m2 - Now just £22.99m2. Order now for your special online price with Free* Delivery - (please allow approx. 10 days for delivery direct from the manufacturers).
Want a smaller or cheaper cut of Commercial Flooring? Click HERE
10 Year Guarantee
New
Recycled
Free Delivery
New Product
Forbo
PRODUCT DETAILS
Brand:

Sarlon

Was:

£32.99 / m2

Now:

£22.99 / m2

Rollwidth:

2.00

Product ID:

423438 Chartreuse
423437 Cornflower
423415 Golden Yellow
423431 Grey Beige
423428 Jade
423422 Light Grey
423402 Medium Grey
423421 Pearl
423436 Salmon
423496 Tangerine
423424 Taupe
423447 Turquoise
2m 2.00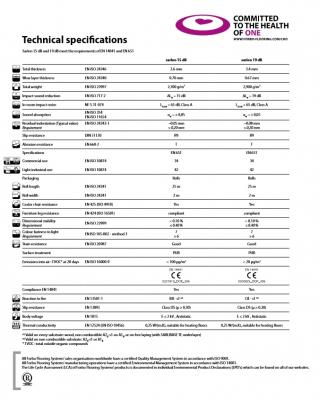 REVIEWS
Order a free sample
Order a free product sample*
Other items you may need, delivered free with your order...
* Certain delivery areas (such as Scottish Highland, Islands and off shore areas) will incur a fixed delivery charge - you can check by entering your postcode on the shopping basket page. Sample orders may incur a small processing and packaging charge.